Bungie heeft niet één maar drie nieuwe uitbreidingen aangekondigd voor Destiny 2.
De drie uitbreidingen staan gepland tot het jaar 2022. De eerste uitbreiding genaamd Beyond Light verschijnt in 2020. De tweede heet The Witch Queen en verschijnt in 2021. De derde uitbreiding heet Lightfall en staat gepland voor 2022. Bungie heeft dus geen plannen voor een Destiny 3. De uitbreidingen The Witch Queen en Lightfall zullen later onthuld worden.
Bovendien heeft Bungie vandaag Destiny 2 voor de next-gen consoles aangekondigd. Spelers die de PS4 en Xbox One-versie bezitten, krijgen gratis de Xbox Series X en de PlayStation 5-versie. Alle voortgang wordt gratis overgezet. De next-gen versie draait op 4K en 60 frames per seconde.
Als laatste laat Bungie weten dat het met een zogenaamde Destiny Content Vault komt. Aangezien er geen Destiny 3 in de planning staat, maar de game ieder jaar met meer dan 25 GB groter wordt, heeft Bungie besloten om oude content te recyclen. Met iedere season wordt er oude content uit de game gehaald en weer oude content beschikbaar gesteld. Zo wordt de game niet exponentieel groter. Ook content van Destiny 1 komt naar Destiny Content Vault.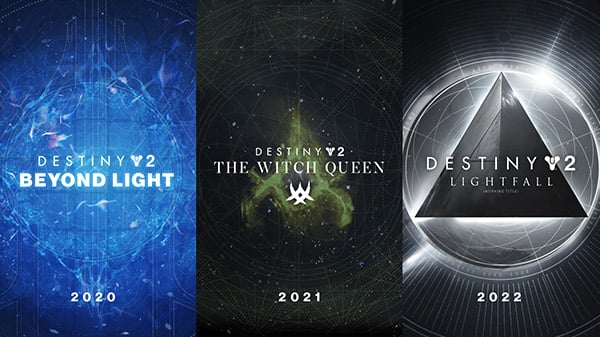 Beyond Light
De grote uitbreiding van dit jaar voor Destiny 2 heet Beyond light en zal op 22 september 2020 uitkomen. In Beyond Light reizen Guardians naar een nieuw gebied namelijk de bevroren maan van Jupiter genaamd Europa. Dit nieuwe gebied bevat heel veel geheimen onder het ijs. Spelers moeten de Golden Age Braytech Facility infiltreren.
Verder bevat de uitbreiding een nieuwe elementaire kracht genaamd Darkness. De verschillende classen kunnen allemaal op unieke manieren gebruik maken van Darkness. In de komende weken gaat Bungie hier meer over bekendmaken.
De maan van Jupiter zal een nieuwe raid krijgen genaamd Deep Stone Crypt. Dit is een raid waar maximaal zes spelers kunnen deelnemen.
Spelers die Beyond Light voortuitbestellen, krijgen direct toegang tot de Excotic Ghost Shell en Legendary Emblem. Wie de Digital Deluxe Edition aanschaft, ontvangt de Exotic Freeze Tag Emote.
Bekijk hieronder de onthullings en gameplay trailer van Destiny 2: Beyond Light.